Agreement between University of Zanjan and Roma Tre University
Agreement between University of Zanjan and Roma Tre University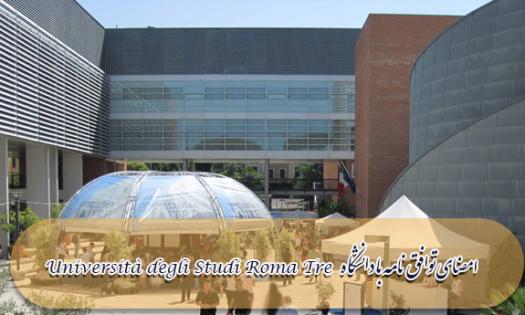 Agreement between University of Zanjan and Roma Tre University
According to this agreement:
1. Cultural and Scientific Co-operation which shall imply:
1.1. the mobility of researchers and teachers of both Institutions;
1.2. the mobility of young researchers, eventually granted, involved in post-graduated programmes;
1.3. the exchange of scientific material.
2. Co-operation in the study programs of the students enrolled in both Institutions which shall imply:
2.1. the mobility of students according to a plan which shall specify the number of students, temporary enrolment procedures and financial conditions, the possible grants, the guarantee of allocation, transfer and recognition of academic credits;
2.2. the mobility of teachers in the framework of agreed training projects;
3. Joint participation:
3.1. in programmes promoted by the European Commission or by other bodies or foundations;
3.2. in the co-ordination of proposals aimed at the acquisition of funds for the realisation of structures and for the implementation of research and/or training projects.
3.3 in the drawing up of common study programmes aiming at double or joint degrees.
This agreement shall be in force for 5 years once signed by both parties.
Date: 2017-09-12 14:48:13