Last Update: 9-12-2015
Educational affairs director
Doctor Reza Noruzian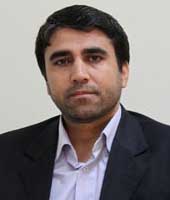 Email address: noroozian@znu.ac.ir noroozian@aut.ac.ir
Personal page: http://www.znu.ac.ir/members/noroozian_reza
Phone number: (+98)-024-33052335
Fax: (+98)-024-32283232
Education office of the University is responsible of all the educational affairs' performance on educational bylaw that it is the main decision references in educational affairs of the University. The Director of educational affair's task is producing, providing, codifying, imparting and monitoring on performance of the University's issues.
Some duties of this Office:
Necessary investigation to codify criteria about student reception and student's leisure of studying.
Necessary planning to constitute to the commission of specific issues and announcing the results to relevant units.
Adjusting and codifying indices and standard of educational affairs of the University and monitoring observes and preferment.
Necessary plans of reviewing and improving issues of educational affairs and correcting them.
Monitoring on bylaw's performing and institute of faculty's educational services and relevant units.
Necessary planning to coordinate faculties and university's affiliated units of educational services.
Planning and control and supervising Iranian students who are located other countries.
Organizing and supervising certificates and training licenses and responding all requires of graduated students by IT center assists and faculty's communicating and relevant units.
Planning and doing appropriate activities related to the outstanding, shahed, foreign and specific affairs students.
Performing other specified duties by educational vice president and higher education.
Hits Today: 2